Home Theater
Para Integration's definition of "home theater": a dedicated room devoted to the best possible reproduction of picture and sound. Projection systems, audio systems, seating, acoustics, and room design are carefully planned and engineered to accurately reproduce what the filmmakers intended.
SYNONYMS: home cinema, screening room, home theatre, media room.

---
Para Integration has been designing home cinema systems for close to two decades for Oscar award-winners and discerning A-list Hollywood professionals. Constantly ahead of the curve in home cinema entertainment, the vast knowledge base Para Integration has built serving the entertainment community is applied across the country to all Para Integration locations. Adapting state-of-the-art commercial cinema technologies and picture/sound best practices to the home environment gives Para Integration a distinct level of expertise that cannot be found at a typical company that provides home theaters. Trust your home cinema experience to the company uniquely qualified to deliver on home theater's true potential.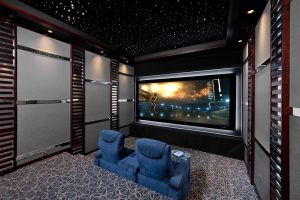 A high-performance home cinema entails far more than merely selecting high-performance components. Some items Para Integration designers consider for your theater design include:
room construction
seating type and configuration
row height and spacing
acoustical treatments
ambient noise control
ambient light control
room light control
equipment & speaker placement
Only when the above items are carefully designed together do you get a true cinematic experience. Far too often we see compromised theaters that miss the mark due to ignoring one or more of these ingredients. Para Integration's theater designers work with your architect and interior designer to create your desired aesthetic while ensuring movie and sound performance are not compromised. With the addition of new surround sound formats such as Dolby Atmos and Auro-3D, early planning and speaker placement are more important than ever.
The world's best picture and sound quality will not mean much if it is difficult to use. Para Integration home theaters are intuitive. You only need to operate a single self-prompting remote control; it is as easy to operate as a bank ATM. Optionally, you may have your smartphone or tablet device control your theater, too.
After proper room design, component selection, and installation comes another vital step that others often ignore…calibration.Para Integration technicians will calibrate your video projector and sound system's performance to Hollywood screening room standards with Para Integration in-house THX and ISF trained technicians.
A Para Integration-designed home theater will be the showcase of your home; the space you will love to escape to with your friends and family.
To get started today, click the Contact Us link to find your neighborhood Para Integration location.